EGG-STRAORDINARY 3-DAYS EASTER EXPERIENCE AT BALI MANDIRA BEACH RESORT
&

SPA 2023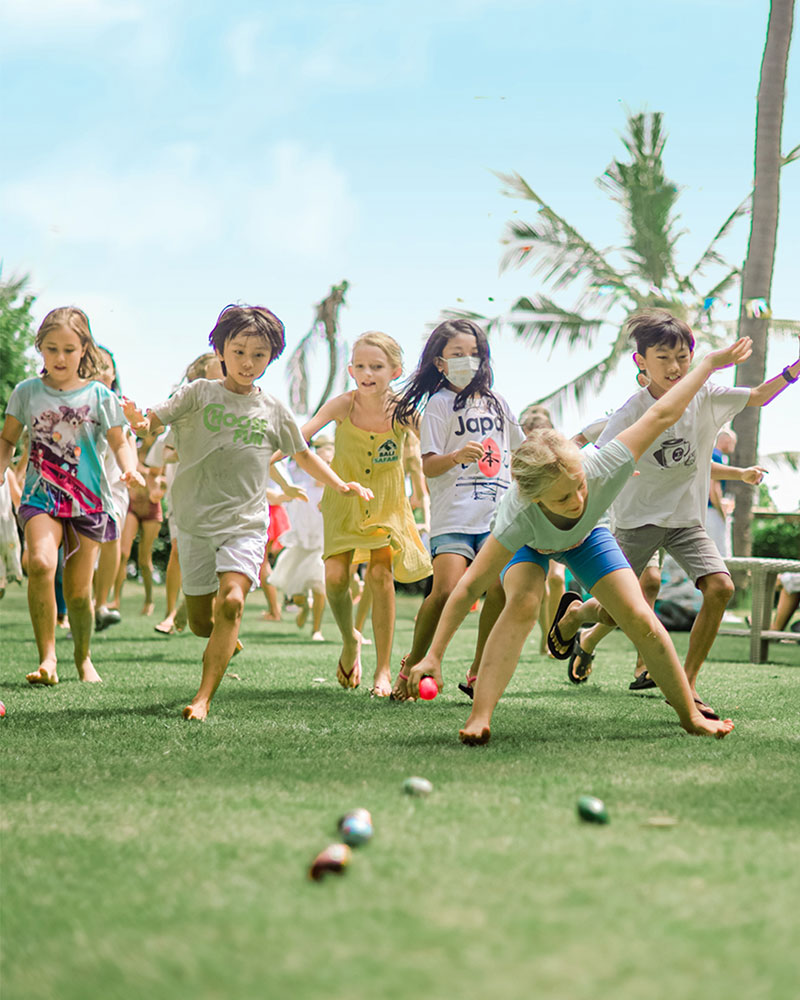 Bali, March 2023 – Staying true to its promise in delivering simply the best seaside holiday experience to the shores of Legian, Bali Mandira Beach Resort & Spa and its ultra-hip Azul Beach Club are preparing an egg-straordinary 3 days Easter experience with specially curated fun activities & entertainments for the whole family.
EASTER SUNSET MARKET
Friday, 07 April 2023, 4-9 pm At Bali Mandira Beach Resort & Spa Main Pool
Bali Mandira Beach Resort & Spa invites you to bring your family along for a day full of joy & flavors at the Easter Sunset Market. Inspired by the famous open-air night bazaars of Asia, this seaside sunset
market will feature food, fashion, merchandise, crafts, arts, music, entertainment, kids playground,
toys, and a bucket load of fun activities for the whole family. The aim is to empower the community
by serving as a platform for local businesses.
Free entry event.
EASTER EVE DINNER
Saturday, 08 April 2023, 6-10 pm
At Azul Beach Club
Indulge in a lavish family sharing style dinner specially created by Azul Beach Club critically acclaimed
culinary team. Elevate the Easter eve magic with two different entertainment options; on the ground
floor – A seaside garden movie night under the stars. On the upper floor – An intimate dinner with live
acoustic music performance.
The dinner is priced at IDR 175.000++/person (half price for children 3-12 YO).
EASTER FAMILY FUN DAY
Sunday, 09 April 2023
At Azul Beach Club & Bali Mandira Main Pool
During Easter Sunday, Azul Beach Club is ready to heat up your Easter celebration with their Easter
Family Fun Day. Enjoy Azul Beach Club smokehouse specials including varieties of fresh from the sea
seafood (yellow fin tuna, king prawns, squid skewers, and many more), meats that include; roasted
lamb, beef wellington, and many more, and fresh from the farm salad & dessert bar. The Brunch will
feature many activities for the whole family; mini zoo, a fun egg hunt activity, egg painting, pinata,
activity, a fun egg hunt activity, egg painting, fun games, pinata, edutainment by Bali Safari, family fun
games, and a live acoustic music performance by the best female singers on the island.
The early bird price is now available at IDR 475K ++/person (half price for children 3-12 YO).
To book a table or to find out more information please visit www.balimandira.com or on Instagram
@balimandira or contact via Whatsapp +62 811-3991-0777 .
ABOUT
BALI MANDIRA BEACH RESORT & SPA
Situated in front of the famous white sandy beach of Legian-Bali. Bali Mandira Beach Resort & Spa is
set amongst 5 acres of beautifully landscaped tropical gardens and looks out to stunning views across
the sparkling Indian Ocean. The resort is located within walking distance to all that Seminyak and
Legian area are famous for, excellent shopping, traditional art markets and restaurants. Legian's wide
sandy beaches and famous waves make it a heavenly place for swimming and surfing. The resort
features dazzling sandy beach pool, private cabanas, sleek sun-loungers, water hammocks, as well as
a shallow pool made especially for lounging and sunbathing, water slides and water fountains.
AFFILIATE BRAND
AZUL BEACH CLUB
Changing the face of lifestyle in Legian-Bali, Azul Beach Club offers a full-fledged beach experience
day and night. Azul Beach Club is an eco-friendly beach club made of 75% locally source bamboo. The
ultra-hip beach Club is beautifully located within Bali Mandira Beach Resort & Spa. The place provides
an ultimate tropical seaside getaway that begins from the sandy bar on the lower deck and expands
to the second-floor sunset pods and dining area overlooking a refreshing view of Bali, lush palm trees
and beach.
Contact Bali Mandira Beach Resort & Spa & Azul Beach Club:
Gilar Manggala
PR & Marketing Manager
M: 085888542799
E: Gilar@balimandira.com