Glow Spa by Bali Mandira
A hidden sanctuary of calm and wellness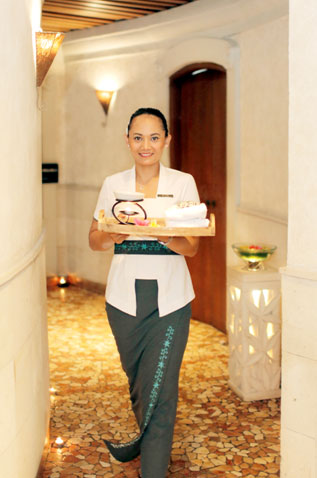 Situated at the stunning Bali Mandira Beach Resort & Spa, Glow Spa offers a wide range of massages, skin care, hair, and body treatments to restore mind, body and soul. The place focuses on not only stimulating the senses, but also adding meaning and emotion to every spa experience.
Every moment of your spa visit at Glow Spa has been choreographed to ensure that each step, stress, and tension melts away. Nature's beauty, the therapeutic aromas of essential oil, the warm healing touch, and soothing music will bath your senses into a state of relaxed bliss.
Glow Spa at Bali Mandira Beach Resort is a complete mind and body wellness experience that optimize the benefits of the rich botanical heritage of the region to soothe your body and mind. Here you can choose many hand-made natural products for your treatments and immerse in nature's comforting scents. Let the expert therapists guide you through a personal voyage selecting luxurious treatments devised from both Asian and Western-inspired traditions.
Decorated with a strong influence of the exotic Balinese architecture where each of the treatment rooms designed with tropical garden theme. The place provides a serene atmosphere inspired by nature where you are invited to relax in the tranquility of your spa suite's private open-air garden.
For more information, please visit the website www.balimandira.com or connect with us to keep yourself updated on the latest update in wellness on its Instagram @glowspa.balimandira
CONTACT BALI MANDIRA BEACH RESORT & SPA
Gilar Manggala
PR & Marketing Manager