Spooky fun or the whole Family awaits at Bali Mandira Beach Resort
&

Spa and Azul Beach Club
October 2022- Halloween is just around the corner, which means it's time to plan a costume party! Take your family out for some wicked fun and join in on the spooky thrills at Bali Mandira Beach Resort & Spa and Azul Beach Club on Legian Beachfront, Bali. The party will be held in two days, spread across both Bali Mandira Beach Resort & Spa and Azul Beach Club, featuring special Halloween-themed entertainment and decorations to add an extra touch of magic to this special occasion.
HAUNTED CIRCUS AT BALI MANDIRA BEACH RESORT & SPA
A SPOOKTACULAR NIGHT OF HAUNTED CIRCUS, MAGIC, AND FIRE DANCE
SATURDAY, OCTOBER 28TH , 2023 | 7 PM ONWARDS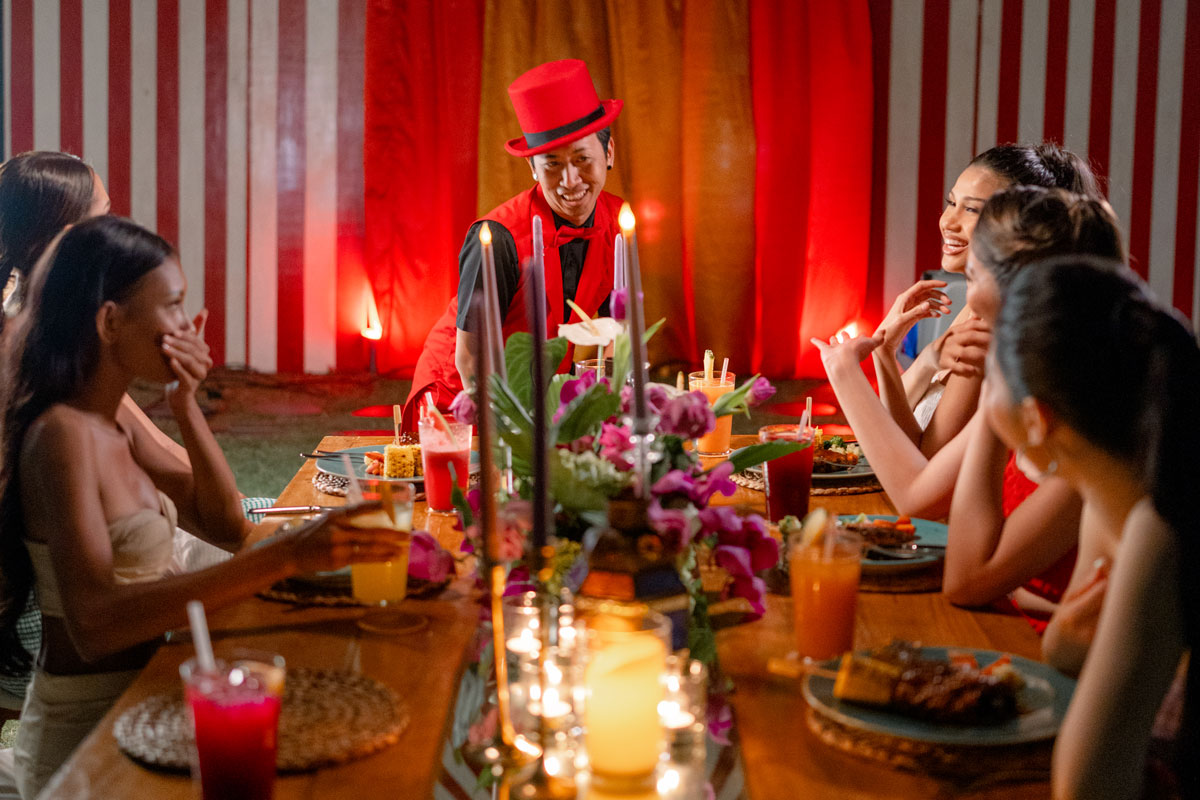 Get ready for a night of spine-tingling excitement and family-friendly fun as Bali Mandira Beach Resort & Spa invites you to the most bewitching Halloween celebration yet! The resort by the sea presents a specter-national lineup featuring a haunted circus, a mesmerizing magic show, and scorching fire dance performances that will leave you spellbound. 🎪🔮🎃 This event promises a one-of-a-kind experience that will captivate guests of all ages. Prepare to be dazzled, amazed, and thoroughly entertained!
In addition to the captivating performances, we are thrilled to announce an exciting Halloween costume contest with prizes totaling IDR 10 million! Guests are encouraged to come dressed in their most creative, spooky, or imaginative costumes for a chance to win big.
The Haunted Circus event at Bali Mandira Beach Resort & Spa will take place on Saturday, October 28th, 2023, from 7 pm onwards. Tickets are now available at IDR 375,000++ per adult, with a 50% discount for kids aged 5-12 (including an all-you-can-eat BBQ dinner)
WITCHES & WIZZARD BRUNCH AT AZUL BEACH CLUB
BEWITCHING AFFAIR THAT WILL LEAVE YOU & FAMILY UNDER ITS SPELL
SUNDAY, OCTOBER 29TH , 2023 | 12-4 PM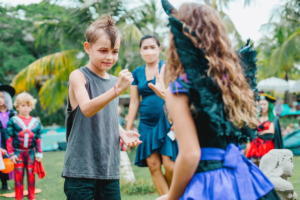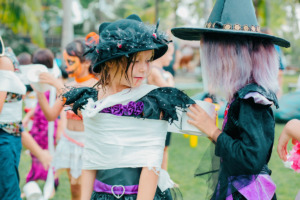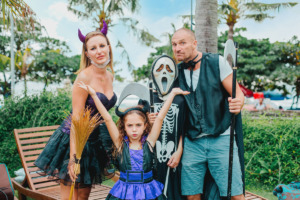 This Halloween, embark on a spellbinding journey with your family at Azul Beach Club, where enchanting experiences await! Prepare for a day of wicked fun, spine-chilling thrills, and delightful surprises. 🔮🎃 The Witches and Wizards promises an immersive adventure for all ages. Guests are invited to indulge in an all-you-can-eat BBQ brunch by the sea, where delectable flavors and mesmerizing views come together for an unforgettable dining experience.
As the cauldron bubbles, so do the festivities! Halloween-themed activities and games will keep the young and young-at-heart entertained throughout the event. From mystical challenges to the Trick-or-Treat walk, where participants will embark on a journey through the Bali Mandira Beach & Resort area, stopping at various stations to collect special treats, where there's an enchanting surprise around every corner.
But that's not all! The Witches and Wizards Brunch also features a spirited competition with prizes totaling a bewitching IDR 10 million! Show off your creativity and imagination with your best Halloween costume, or put your skills to the test in the thrilling games. The winners will walk away with fantastic rewards.
The early bird tickets for the Witches & Wizard Brunch are now available at IDR 385.000 NETT/adult and 50% OFF for kids under 12 YO (include all you can eat BBQ brunch).
To book a table or for more information about Halloween celebrations at Azul Beach Club & Bali Mandira Beach Resort & Spa, please visit https://www.balimandira.com/whats-new-news/or Instagram @balilmandira / @azulbeachclub or email info@azulbali.com.
ABOUT BALI MANDIRA BEACH RESORT & SPA
Situated in front of the famous white sandy beach of Legian-Bali. Bali Mandira Beach Resort & Spa is set amongst 5 acres of beautifully landscaped tropical gardens and looks out to stunning views across the sparkling Indian Ocean. The resort is located within walking distance to all that Seminyak and Legian areas are famous for, including excellent shopping, traditional art markets, and restaurants. Legian's wide sandy beaches and famous waves make it a heavenly place for swimming and surfing. The resort features a dazzling sandy beach pool, private cabanas, sleek sun-loungers, water hammocks, as well as a shallow pool made especially for lounging and sunbathing, water slides, and water fountains.
Facebook: https://www.facebook.com/balimandira
Instagram: @balimandira
Website: www.balimandira.com
Address: Jl. Padma No.2, Legian, Kec. Kuta, Kabupaten Badung, Bali 80361
ABOUT AZUL BEACH CLUB
Changing the face of lifestyle in Legian-Bali, Azul Beach Club offers a full-fledged beach experience day and night. Azul Beach Club is an eco-friendly beach club made of 75% locally sourced bamboo. The ultra-hip beach Club is beautifully located within Bali Mandira Beach Resort & Spa. The place provides an ultimate tropical
seaside getaway that begins from the sandy bar on the lower deck and expands to the second-floor sunset pods and dining area overlooking a refreshing view of Bali, lush palm trees, and the beach. Facebook: https://www.facebook.com/AzulBeachClubBali/
Instagram: @azulbeachclub
Website: www.azulbali.com
Address: Jl. Padma No.2, Legian, Kec. Kuta, Kabupaten Badung, Bali 80361
Contact Bali Mandira Beach Resort & Spa:
Gilar Manggala
Corporate Assistant Director of PR & Marketing E: Gilar@balimandira.com