Commemorating Indonesian Day of Freedom at Bali Mandira
A Day full of joy, Culture & Flavours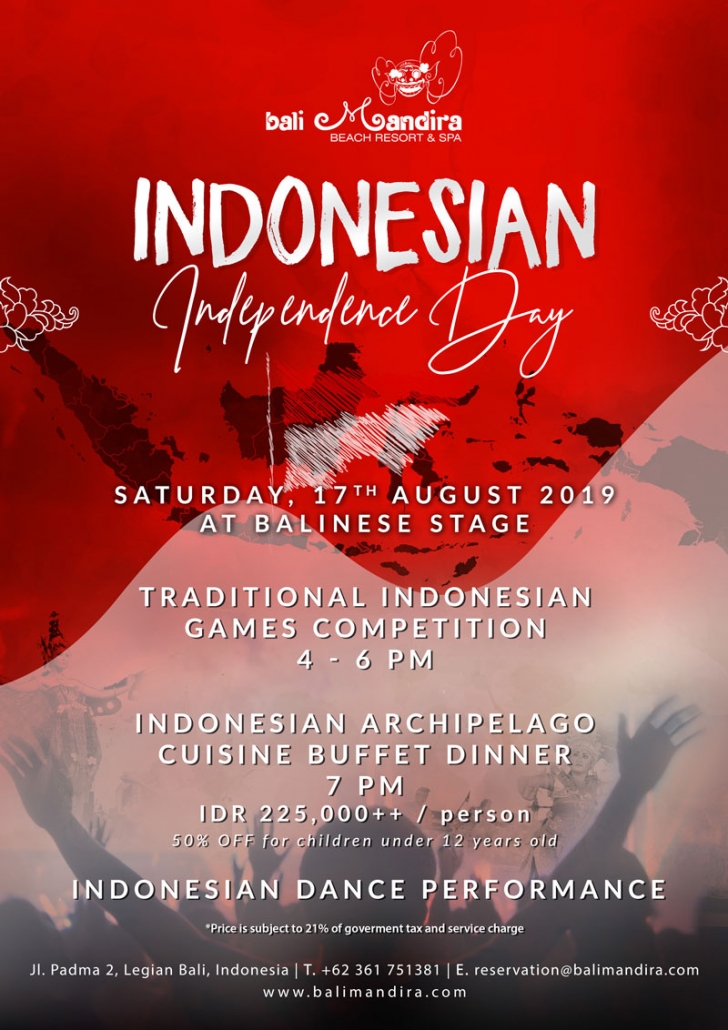 Saturday, August 17th 2019 marks Indonesia's 74th year of independence. In the spirit of bringing people together, Bali Mandira Beach Resort & Spa has designed variety of activities for you and family to have a day full of joy with games, fun competition, culture, exquisite Indonesian buffet dinner by the sea commemorating Indonesian day of freedom.
It has been a tradition to commemorate Indonesian Independence Day with fun games and competition, the idea of this contest is to unite people as a nation. Inspired by this tradition, Bali Mandira Beach Resort & Spa will host a series of Indonesian traditional games and competition for the whole family at its beachfront garden by the pool such as sack race, marble race, tug of war, and many more.
Finished the day with a divine evening where you can spoil your sense as you indulge in a lavish al fresco Indonesian buffet experience featuring culinary traditions from around the archipelago. Guests can feast on a colorful array of delicious bites under the stars while enjoying the sea breeze and the serene sound of the wave. The food will be curated and presented in buffet-style and at food stalls set up in the beachfront garden itself. Traditional Indonesian dancers will perform during the dinner at the Balinese stage on the garden to make the evening more special and to give guests the opportunity to witness genuine traditional Indonesian dance performances in an authentic Balinese atmosphere. The dinner will start from 7 PM at IDR 225.000++/person.
Located in the heart of Legian, Bali, the majority of Bali Mandira Beach Resort & Spa guests are from overseas. This program is expected to be a fun way to promote Indonesian products and cultures to its overseas guests, which focuses on Indonesian gastronomy, tradition, and culture.