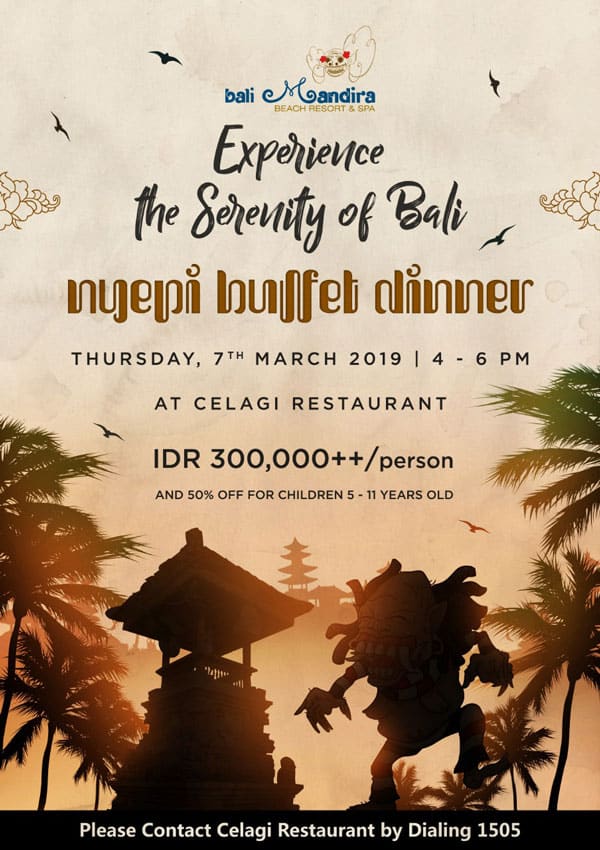 Welcome and thank you for choosing to stay at Bali Mandira Beach Resort & Spa!
Please kindly be informed that the Thursday, 7 March 2019 is the Nyepi Day (Silence Day of Bali). On Nyepi Day, there are a few things we invite you to observe along with the locals. No outdoor activities would be allowed in the whole island of Bali, please be advised not to go out of the resort area. Ngurah Rai airport would be also closed on that date.
During Nyepi Day a complete silence is expected throughout the day as it is one of the most important days for Balinese Hindus. The Day of Silence holds a historical and religious importance as it signifies the beginning of Caka New Year according to Balinese calendar.
Leading up to the Nyepi Day, a number of ceremonies and procession will be conducted to celebrate the holy day. Please find below details of the events taking place during this period. We invite you to view the ceremonies and event and participate while respectfully adhering to the local customs and cultural traditions during the occasion.
Monday, 4th  March 2019 :  'Melasti'
One of the most important preparations for the coming New Year is the purification ceremony called Melasti. The Melasti ceremony includes a ritual offering holy objects such as statues and "keris" – which is a Balinese traditional antique dagger. You are able to witness this sacred and colorful procession leading to the beach along the Padma street.
Wednesday, 6th  March 2019 – 'Ogoh – Ogoh Parade'
On the eve of the Caka New Year, "Demon Chasing" ceremonies are held throughout the Island of Bali. The melodic sounding of drums and gongs fill the air as processions of effigies or Ogoh-Ogoh" passes through every village to scare and chase away evil spirits. The procession at our resort will start at 4:00 PM continued by procession at Legian street at 6:00 pm. If you are interested in viewing the ceremony, simply let our staff know and please be ready at 5:45 pm at hotel lobby.
Thursday, 7th March 2019 – 'Nyepi'
The first day of the Caka New year, also known as Nyepi, is a day of complete silence in Bali. The whole island will be void of people on the streets and beaches. It is mandatory to stay indoors or within resort premises with no noise, no lights, and no activities. The whole island of Bali shall appear deserted and therefore it is believed that the evil spirits will pass over the island.
Friday, 8th March 2019
The second day of the Caka New Year, also known as "Ngembak Geni", is a day for Hindu people to do "Sima Krama / Dharma Santi", visiting and apologizing to one another. Please also be aware on this day most of the shops and restaurants will be open after 12:00 noon, but most of them might be closed.
Generally Nyepi Day will not affect the internal operation of Bali Mandira Beach Resort & Spa. However, as we are very much a part of a Balinese Community, all visitors are asked to respect this especially sensitive tradition in the following ways :
Guest & Staff are not permitted to leave the premises of the hotel commencing 6:00 am Thursday, 7th March 2019 to 6:00 am Friday, 8th March 2019. To do so is considered as a criminal act.
All guest room curtains are required to be fully drawn from 6:00 pm Thursday, 7th March 2019 to 6:00 am Friday, 8th March 2019. Please minimize all lighting especially those on the exterior side of the property. Ensure your curtains are fully closed before turning on interior lights.
The entire hotel's outdoor lighting will be completely switched off following sunset on Thursday, 7th March 2019, while indoor lighting (including those for outlets and public areas) kept to only a bare minimum until sunrise on Friday, 8th March 2019.
Keep noise to a minimum, especially in areas where it may carry to the surrounding village.
During Nyepi period there are tailor-made Cultural Programs, Kids Programs and Food & Beverage Service. Please refer to posters throughout the property or the back cover page of this flyer to get further details on our various Food & Beverage services and every venue's operation hours.
Room Service will operate 24 hours with special Nyepi Menu.
Spa is opened as normal 8:00 am – 9:00 pm
Laundry Service is closed, any laundry should be dropped by latest on 5th March 2019 at noon time.
Art Shop and Tour Service will be closed.
Swimming Pool is opened from 7:00 am – 6:00 pm.
In case there is no program broadcasted on television, we are going to provide in house movie channels which is available on Channel 2, 3, and 4
We much appreciate if you could allow our room attendants to clean your room before 5:00 pm on Saturday, 17th March 2018.
Probably most of the shops, restaurants, ATM, and banks will be closed from Thursday, 7th March – Monday, 11th March 2019
Rest assured that we will undertake every effort to accommodate your needs within the possible limits and thank you for helping us to respect Bali's local culture and customs during this auspicious occasion.
We look forward to celebrating "Hari Raya Nyepi" with you at the Bali Mandira Beach Resort & Spa.
Thank you for your understanding.
The Bali Mandira Management Team