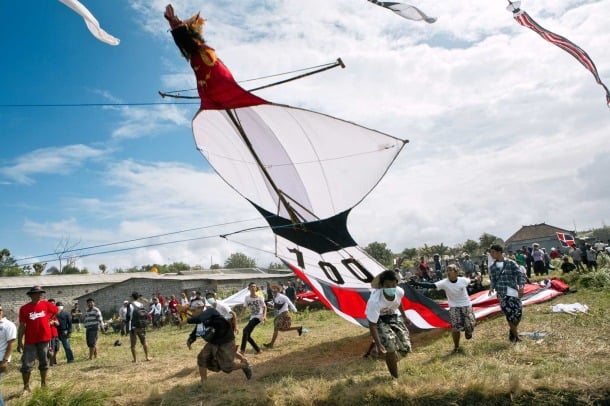 The Bali Kite Festival is an annual undertaking held on the island during July and August. The event highlights Bali's unique culture, drawing thousands of visitors each year. The timing of the kite festival is key as it marks the start of the windy season.
If you would like to participate in flying a kite, interact with the locals and enjoy the sun and sea, then make your way to Padanggalak, a coastal region north of the tourist town of Sanur.
Check in with the Tourist Information Centre when you arrive to see when this event is scheduled to take place as the exact dates are in accordance with prevailing weather conditions.
Once everything is set, locals will gather to compete with foreigners in a challenging kite flying competition. If you head down to the beach to watch or take part, you will see a sky filled with kites of all shapes, sizes and colours soaring above the crowds. History has it that the festival started off as a ritual to thank the gods for bountiful harvests and fertility, but has since grown to become one of the most remarkable events on Bali's annual calendar. Prizes are given to the most distinct and creative kites.
If you love kites, and are a fan of the outdoors, then the Bali Kite Festival is perfect for you. (Source: balitravelhub.com)
Click the following link if you are looking for a perfect Bali Accommodation.